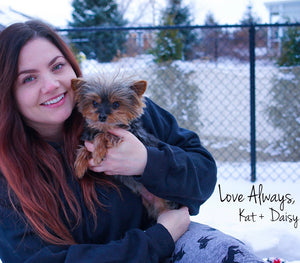 Introducing the Happy Daisy Choice Bundle 
At Happy Daisy, we are all about offering your dogs products that will help nourish them. Different proteins not only offer different nutritional benefits, but they also provide different flavour profiles which in turn will help keep your dogs interested and motivated. It's the perfect training bundle if you ask us. 
Not sure what your dog likes? Are you indecisive or unsure what to get? Let us take the stress off of you and decide for you! This bundle of Happy Daisy goods includes a variety of our products including: Jerky, Freeze Dried Bites, Chews & More. The contents will change every time and we will do our best to new track of what your previous bundle included, should you choose to grab more than one :) 
Every bundle is guaranteed to have a $65 value - providing you with savings!
These bundles are picked and packaged up by yours truly. So if your pet has allergies just let us know in the order details not to include any "insert allergy" and we will ensure to only pack goodies you can enjoy.